LabelTac® 4 5S Industrial Labeling System
SKU:

LT4
Frequently Bought Together
Please choose options for all selected products
Overview
The LabelTac® 4 is our entry-level, widely-used printing system that lets you create labels and handle your communication projects on your own terms. Whether you're making your facility safer, staying compliant with regulations, or promoting efficiency, this budget-friendly printer creates all the labels you need, which will be able to withstand harsh conditions both indoors and outdoors, all year round. The printing process is made effortless with LabelTac® 4; you'll be able to print labels from any PC, and the printer's small footprint won't take up a lot of space in your workplace. Plus, the LabelTac® 4 comes with a lifetime warranty.
Compatible with supplies from ½" to 4"
Budget friendly
Entry-level model
Able to connect to any Mac or PC via Ethernet or USB
Features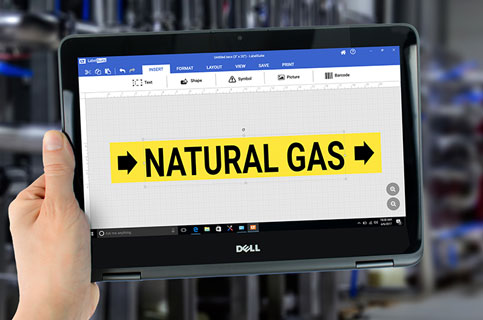 Includes intuitive software for designing signs and labels
Every LabelTac® printer comes with LabelSuite™ software, which helps you create custom signage in minutes. LabelSuite™ was designed to be the easiest labeling software available and contains an extensive library of pre-made templates. It sets a new standard for simplicity and functionality.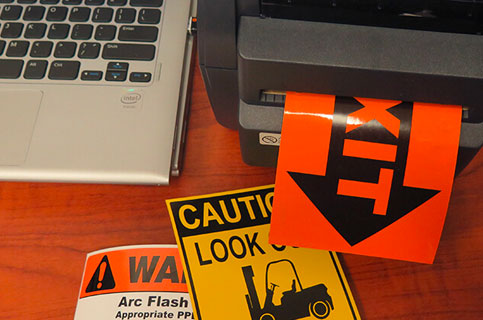 Easy to use
LabelTac® 4 was designed to be an entry-level model, meaning you can load and print a wide range of labels effortlessly. There's no steep learning curve and you'll find the printing process to be fast and simple.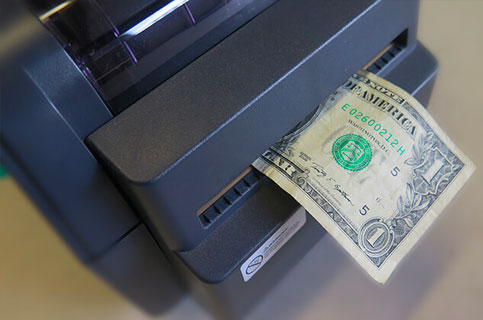 Budget friendly
With LabelTac® 4, you'll find all the features you need to handle all your labeling projects, at a price that won't break the bank.
Specifications
Name
Item Name
Color Capability
Single color
Max Label Width
4 in
Power Supply
External universal switching power supply
Input: AC 100-240V, 2.5A, 50-60 Hz
Output: DC 24V 3.75A, 90W Max
Print Speed
4 in/sec
Label Types
Continuous, die-cut, black mark
Dimensions
203 mm (W) x 191.5 mm (H) x 259.3 mm (D)
7.99 in (W) x 7.54 in (H) x 10.21 in (D)
Type
Compact desktop
| Name | Item Name |
| --- | --- |
| Print Resolution | 300 dpi |
| Memory | 8MB RAM, 4MB Flash |
| Max Label Length | 40 in |
| Display | Single Power/Status LED |
| Warranty | Full Lifetime |
| Weight | 4.85 lbs (2.2kg) |
| Includes | Print software & drivers, label templates, industrial symbol library, cables, user guide |
| QTY/UOM | 1/Each |
Warranty
All LabelTac® printers include a FULL LIFETIME transferable warranty on all parts, labor, and related costs. Creative Safety Supply will repair any printer that is defective due to materials or workmanship, standard wear and tear, or mechanical malfunction. We provide this industry-leading warranty so you can use your printer as often as you need to without worrying about equipment problems. It̥s our goal to make owning a LabelTac® printer easy and worry free.
Customer Photos
How It Works
Thermal transfer printers work by using heat to transfer solid ink from the ribbon onto the label supply. As the ribbon passes through the print head and platen, the ink is bonded to the label supply (or other material) with heat and pressure, creating a permanent print.
The use of heat to activate pigment is what makes thermal transfer printers unique from other printers. Since there are not many moving parts, thermal transfer printers are easier to maintain and tend to last longer. The labels they create are better able to withstand heat, weather, chemicals, water, and other harsh conditions.
Proud to work with and support some of the world's greatest organizations
All logos are the trademarks of their respective companies. Use of logo or company name does not imply official sponsorship or endorsement.
Your download will begin momentarily...
If it doesn't begin after a few moments, click here to
start your download (or right-click -> Save as).
LabelTac® Mobile Print Station
The tools you need to tackle any workplace printing and labeling project, without the hassle of being tethered by cords and wires.
The LabelTac Mobile Print Station includes a LabelTac Design Workstation for easy editing and quick reprints, a 1000VA Battery Backup to easily print on the go, and a mobile cart and cabinet to bring printing to your project. Remove wasted time by bringing your printer with you!
Includes:
Features:
Holds any LabelTac® Printer, from the LabelTac® Pro X to the LabelTac® 9
Cabinet below provides storage for LabelTac supplies and equipment
Keep supplies safe and secured with the included set of cabinet keys
The LDW comes with Windows 10 and LabelSuite pre-installed so you can start printing right out of the box
The LabelTac Battery Pack V2 offers up to 12 hours of battery life
Connect the Battery Pack to the LDW via USB to access additional battery management features
LabelTac® Wireless Barcode ID Scanner
The LabelTac Wireless Barcode ID Scanner is the ultimate way to scan barcodes around your facility. Whether this scanner is used in a shipping warehouse, manufacturing facility, or a busy retail environment, this Wireless Barcode Scanner gives your employees the limitless and cordless freedom to scan barcodes and rack labels anywhere. Each scan captures data quickly and with incredible accuracy, helping employees work efficiently and accurately. With its user-friendly design and easy plug-and-play installation, this barcode scanner instantly improves productivity.
The LabelTac Wireless Barcode ID Scanner is compatible with all LabelTac Industrial Printers and can be used to make barcodes instantly! This Wireless Barcode Scanner also has no need for driver installation. Just simply plug the USB receiver into your computer, either open up a Word or Excel document, then start scanning. The Labeltac Wireless Barcode ID Scanner offers a 328 ft transmission distance while indoors and offers a 437 yds transmission distance outdoors in a barrier free environment.
LabelTac® Single Outlet Surge Protector
Keep your LabelTac equipment protected from voltage spikes with the essential LabelTac Printer Single Outlet Surge Protector. This surge protector provides single device protection, and fits in most wall tap plugs due to its slim and compact design.
Compact Design for Single Device Protection
900 Joules of Surge Protection
Wall Tap Plug