Description
Toughest floor tape on the market
Dense, rigid, shatter-resistant material
Low profile - 70 mil (1 mil = 0.001")
Triple-stage tapered edges
Reinforced rubber-based industrial adhesive
7 color options
Easy application by hand or optional applicator (ST-APPL)
1 year limited warranty
The strongest floor marking tape we've ever created.
Based on the profile of our top selling original SafetyTac® tape, SafetyTac® 2.0 takes durability to the highest level, being constructed from an ultra-rigid 70-mil heavy duty composite material that is rigid and both shatter and break resistant.
Forklifts, trucks, carts and foot traffic don't stand a chance against this extremely tough tape.
Color Options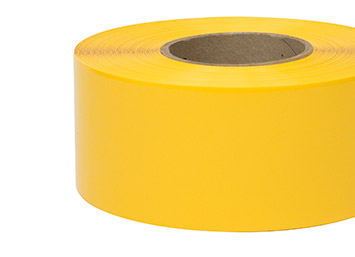 Triple-stage Tapered Edges
The advanced tapered edging of this tape allows even the heaviest materials to move freely over your floor markings.
Low Profile
SafetyTac® 2.0's low profile allows it to sit smoothly on your floors, so it will not create a tripping hazard.
Shatter Resistant
Despite being made from a dense material, this tape is engineered not to shatter even if heavy objects are dropped on it.

Advanced Pivot Resistance
This tape's flexible and resilient material prevents damage when heavy equipment turns or pivots on it.

ARMOR Technology
By using a denser, harder material, we've created a tape that is even more durable and can withstand intense traffic.

Industrial Strength
SafetyTac® 2.0 can withstand the tough conditions of an industrial workplace. It will hold up to foot and vehicle traffic, wet conditions, and even chemical spills.

Easy to Install
Applying SafetyTac® 2.0 tape to the floor is simple. Remove the backing, lay the tape on the floor, and press it down. No dry time required.