SafetyTac® 2.0 with Armor Technology
SKU:

SA201
Frequently Bought Together
Please choose options for all selected products
Description
SafetyTac® 2.0 Floor Marking Tape
SafetyTac® 2.0 is the toughest floor tape you'll find on the market. It brings you the best of both worlds—the highest possible durability due to a heavy duty composite material, and SafetyTac®'s well-known low profile. Additionally, this tape has Armor technology, meaning that the best-selling floor tape has been enhanced to withstand the toughest industrial conditions. Its edges are triple-stage profile so heavy machinery will move over your tape with ease, and it has advanced pivot and turning resistance. If your facility has a high level of traffic each day, SafetyTac® 2.0 is the floor tape that your workplace needs.
Specifications
| | |
| --- | --- |
| Thickness: | 70 mil peak thickness |
| Profile: | 5 mil/10 mil/15 mil profile |
| Surface: | Smooth, slip-resistant finish for easy cleaning |
| Material: | ARMOR Technology™ PVC composite |
| Adhesive: | Reinforced dual-sided cloth adhesive |
| Adhesive Color: | White |
| Liner Color: | Blue |
| Application Temperature: | 40°F to 90°F (4.5°C to 32°C) |
| Service Temperature: | 0°F to 130°F (-18°C to 54°C) |
| Warranty: | 2 year limited |
Recommended Downloads
Best Practice Guides
Low Profile
SafetyTac® 2.0's low profile blends seamlessly with your flooring and doesn't create a tripping hazard.
Shatter Resistant
SafetyTac® 2.0 it won't shatter or otherwise break if heavy objects fall onto it, despite its dense material.
Advanced Pivot Resistance
This floor tape's flexible material was designed to be resistant to the pivoting and turning of heavy equipment.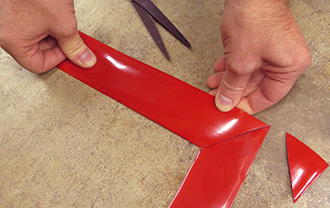 Easy to Install
It's simple to apply SafetyTac® 2.0 to your floors. Remove the backing of the tape, lay it on the floor, then press down firmly.
Request more information
Send me information about SafetyTac® 2.0 with Armor Technology
Get more information about this product and one of our sales representatives will be in touch with you shortly!
Warranty
We know our industrial floor tapes are the toughest on the market, so we stand behind them. SafetyTac® Industrial Floor Tape, SafetyTac® Hazard, and SafetyTac® Lean all come with a one-year warranty as long as they are properly installed and maintained. If your warranty period hasn't expired and you experience a problem, we will replace your tape for free.
Customer Photos