Description
SafetyTac® Floor Marking Tape
SafetyTac® Floor Tape is our best-selling floor marking tape and for good reason. SafetyTac® floor marking tape is designed to withstand the tough conditions of an industrial workplace. SafetyTac®'s resilient material holds up to traffic and spills, and its reinforced rubber-based adhesive keeps it in place, so it will get the job done for a long time. SafetyTac®'s dual-stage tapered edges prevent the tape from getting caught on wheels or pallets. That means vehicles can easily slide over the tape without causing damage. SafetyTac® also has a low profile, so it won't make walking surfaces uneven. No need to worry about pedestrians tripping.
Specifications
| | |
| --- | --- |
| Thickness: | 35 mil wear-resistant rigid PVC |
| Edge: | Dual-stage beveled edge |
| Surface: | Smooth, slip-resistant finish for easy cleaning |
| Material: | Made from rigid Shore D80 material |
| Adhesive: | Extremely durable dual-sided cloth adhesive |
| Adhesive Color: | White |
| Liner Color: | Blue |
| Peel Strength: | 14 N/25 mm |
| Tensile Strength: | 80 N/25 mm |
| Application Temperature: | 40°F to 90°F (4.5°C to 32°C) |
| Service Temperature: | 0°F to 130°F (-18°C to 54°C) |
| Warranty: | 1 year limited |
Recommended Downloads
Best Practice Guides
Dual Stage Tapered Edges
Tapered edges allow carts and pallets to easily slide over this tape. You can move objects without worrying they will catch the tape's edge.
Low Profile
SafetyTac®'s low profile allows it to sit smoothly on your floors, so it will not create a tripping hazard.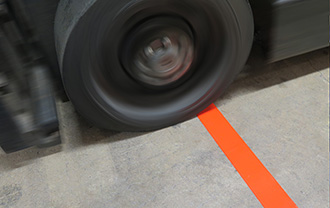 Industrial Strength
SafetyTac® can withstand the tough conditions of an industrial workplace. It will hold up to traffic, wet conditions, and even chemical spills.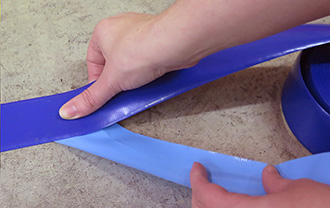 Easy to Install
Applying SafetyTac® to the floor is simple. Remove the backing, lay the tape on the floor, and press it down. No dry time required.
Request more information
Send me information about SafetyTac Floor Marking Tape
Get more information about this product and one of our sales representatives will be in touch with you shortly!